The perfect online roulette experience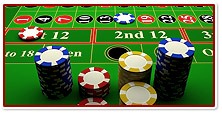 What's your idea of the perfect online roulette experience? Actually, we're not really sure why we asked that. We're guessing your answer is something along the lines of "winning every single spin" or "busting the house."
We admit it. That'd be pretty perfect. But it won't happen. It doesn't happen live. It doesn't happen online. Casinos have the edge in every game. Online roulette and its live counterpart are no different. Yes, people still walk away with big scores, but we haven't seen players win every spin - unless they only spin once or twice before walking away.
So why are we asking you? Well, the truth is a lot of online roulette casinos are far from perfect. Just like you'd find sub-par casinos around the world, you'll find mediocre ones online too. But you'll also find some gems out there, and if you look for casinos that match these five criteria, you're golden.
The casino offers multiple roulette variations
Sometimes you're in the mood for Chinese food. Other times you crave pizza. The same is true at online casinos. Sometimes you want American roulette. Other times the Euro version might be in order. And if you're feeling really European, maybe French roulette fits "le bill" a bit better. But if the online casino you've chosen only offers one type of roulette, your appetite for fun might disappear pretty quickly. That's why you'll want to find an online casino that offers several different roulette variations. No matter what you're craving, you're covered.
The payout percentages are fair
Did you know that the big and reputable online casinos post payout percentages on their website? It's true, they'll tell you how much money they pay back for every dollar taken it. The payout percentages run anywhere from 95% to 98%, with the top casinos coming in at the high end. Some online casinos will even tell you payout percentages for their Roulette tables, specifically. If you can find one that does, you'll be better off.
The gameplay is smooth
High-end graphics aren't everything in a casino game. In fact, if the graphics are too rich and tax your computer's system too much, you can suffer from slow gameplay. That's why the perfect online casino offers the perfect blend of high-end graphics and smooth gameplay. It's tough to find a casino that blends both so seamlessly, but they're definitely out there.
The dealer comes to you
The really great online casinos offer a realistic roulette experience, complete with great graphics that make you feel like you're in the Adelaide Casino. But if you're 300km outside of the city, you might not exactly have the option to head to a real casino.
If you want to interact with a real live dealer, some of the big Australian online casinos offer live roulette. Those casinos bring the dealer into your home through the magic of cameras. You place your bets on the virtual roulette board, but instead of hitting the "spin" button, you wait for the dealer to spin the wheel. And you actually watch them do it. The roulette dealer is actually sitting in a real casino so everything is way more realistic. It's just like being there.
They offer bonuses that work with roulette games
It's no secret that some of the biggest online casinos offer bonuses to entice new players to choose them over the competition. But did you know that most online casinos actually build their bonuses for slot machine players?
In fact a lot of casinos exclude Craps, Blackjack, and Roulette from the list of games that the bonuses apply to. The reason? Roulette games pump out bigger winners than slot machines. That means more bonus money being given away by the casino. The really good roulette casinos offer bonuses that apply across the board to all types of players.
Even some of the best casinos only hit two or three of these marks. And roulette players have plenty of fun and still make lots of money at these sites. But if you happen to stumble on a site that ticks all five boxes mentioned, it'll be like betting on 17 nine times in a row and hitting it every time.
Frequently Asked Questions
What do people love about playing online roulette? Obviously we're motivated by the thrill of winning big and driven by the anticipation of every tantalising spin, but when it comes to choosing the site you want to play at, getting the best roulette experience possible is everything.
There's an element here that comes down to taste of course. Some players are seduced by 3D graphics, or having a live dealer on screen, and want everything to look amazing. Others are focused purely on the gameplay functionality and speed of every spin. Whatever your preference, you can bet a good sum there's a real money roulette site that's perfect for you.
To get the best possible experience playing online roulette you're going to need a site that runs smoothly, is easy to navigate and looks exactly as you think it should. That means different things for different people, but when you land on "the one" you'll know it.
What should I look at for a great experience?
It's vital for a good online roulette website to offer intuitive gameplay. Everything should look and feel natural, and there should be a fast learning curve from your first time playing to the moment you feel like you're in total control of what's happening.
A great experience can also be helped by attentive customer service at a roulette website. You'll want 24-7 provision here, if possible, so that any problems arising with your account can be dealt with quickly.
Other big factors to influence your roulette experience might be the choice of games offered, the capability of the software, the bonuses handed out and the graphics – in terms of how realistic online roulette feels compared to a live casino environment. Whether a site is compatible with mobile and tablet is also a factor.
Is there much difference between the top casinos?
All of the top casinos can be relied upon for banking security, great software and excellent customer service. Where you'll find a difference is in things like graphics, gameplay and bonus offerings. Some sites have slicker graphics than others, and some are just more straightforward to play.
Can I trial the software?
Most of the top online casinos will allow you to download their software and play some games for free to get a feel for what's on offer. This free play option is designed to help you learn the functionality and give you a taste of what it would feel like to be playing for real money. When free play is available, you can trial roulette software with no obligation.
Do the above casinos offer bonuses for roulette?
All three of the casinos listed above offer great bonuses for roulette. These are delivered in the form of "welcome bonuses" for new players, where the site will match your initial deposit(s) to a certain percentage and put that money into your online gambling account.
What if I don't like the casino I have signed up to?
If you really don't like a roulette site there's no need to stick around. All you need do is withdraw the funds in your online account and go elsewhere. There's no obligation whatsoever to keep playing at a site just because you happened to register there once.
If you're newly registered at a site you'll want to check your terms and conditions carefully here, as money gained in welcome bonus is not always easy to withdraw. You might find you need to use up some playing credits, rather than leaving them sitting in your account.
If you're newly registered and you haven't made a deposit yet, you've nothing to look into whatsoever. You're free as a bird to look at other websites and find one that better suits your needs.