JPC Social Gaming Review
Aussies looking for absolutely free pokies online often struggle to find reliable and safe free pokies that are actually worth playing. We scour the internet in search of only the very best, absolutely free online pokies that are perfect for Australian players. We review top pokie brands and show you how to sign up and play for free.
What You'll Love
Unlock dozens of new slots at JPC
Bonus coins every 4 hours
New Slot Releases & Events
Gift Exchanges
Leader boards
What Could be Better
Free to play games means you cannot earn any real money
Free to play online pokies sites, also known as social casino gaming, is taking the online world by storm and there are now hundreds of free pokies on social networks. Of course, not all of these free pokies are worth playing and in fact, many of them need to be avoided at all costs. However, we have found a few that are absolutely worth signing up for, and the best part is that you can sign up with your Facebook account or even your Google+ account.
JPC Casino or Jackpot Party Casino is one of the best free social casino gaming apps for Australian gamers looking for real, high quality and authentic online casino pokies. JPC Casino offers dozens of top pokies to play for absolutely free and the best part is that these pokies come from a top software brand. Getting started with JPC Casino is very easy to do and, unlike a regular online casino where you need to register and fill in a bunch of personal information, with JPC all you need is your Facebook profile. You can also sign with your Google+ account if you have one or if you prefer to do so.
JPC Casino has a wide range of pokies for all sorts of preferences and the way that you can play them all for free is simply by unlocking them, one by one. What's really great about JPC is that you don't even need to start with your own money. Once you've logged in with your Facebook account, you will immediately receive free coins or credits to start playing right away. You can also earn more coins by completing a range of missions or tasks, so that you can unlock even more pokies for free.
Software
Leading Social Gaming Software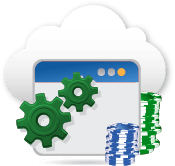 Unlike many of these free pokies that are available on social networks like Facebook, where you have no idea who created them or if they are even reliable or trustworthy, JPC uses real pokies which are exactly the same as you would find in their parent online casino, Jackpot City. The free to play pokies available on JPC's site have all been designed by leading online software brand WMS (Williams Interactive). This assures you that the pokies that are available to play for free are all tested for safety and security as well as for fair play.
JPC free to play pokies will give you the real experience of playing top Vegas pokies online since WMS are also one of the leading suppliers of real brick and mortar pokies to all of the top Las Vegas casinos. Many of the free to play pokies that you can unlock on JPC Casino are actually free versions of the very same popular WMS brick and mortar pokies and contain many of the same features and bonus rounds. The only real difference is that the free to play WMS pokies are exactly that, free to play with no actual real money to be won.
Games
Top social pokies with awesome gaming features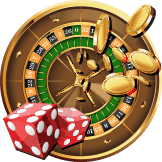 Currently JPC offers Aussies looking for free to play pokies, well over 70 world class pokies straight from the WMS stable of quality online pokies. You will be able to enjoy all of the best features that real online pokies offer for free. All of the pokies that you can unlock at JPC are exactly like real pokies in every way except for the payout. Since you are playing these for no money, you also won't be making any money either. These are for Aussie looking for fun and entertaining pokies, without all the stress of dealing with real money.
The JPC collection of authentic pokies is growing by the day and you are virtually guaranteed to find pokies that you love on their site. This includes hugely popular pokies like Jungle Wild, Zeus II, OMG! Kittens, Super Jackpot Party and many others. The best thing about playing at JPC social casino, is that you have plenty of opportunities to unlock even more pokies, especially high roller pokies like Yahtzee, Dean Martin's Wild Party, KISS and many others.
It is also very easy to unlock more pokies with JPS simply by playing the ones that are already unlocked for you. Playing higher stakes spins will earn you more experience points which are the currency by which you can unlock higher level pokies. JPC also features a pokies win meter which is a way for you to earn additional prizes. The two combinations of experience points and the win meter are used to unlock even more pokies at JPC.
TAKE ADVANTAGE OF FREE COINS SIGN UP BONUS AT JPC!
Mobile
Mobile Options
Social casinos like JPC are designed to work on a wide range of mobile devices including smartphones, tablets, kindles and other internet enabled devices. As long as you are able to get your Facebook feed on your mobile device, via the Facebook app, you will be able to sign in and enjoy all of the top pokies that are available at JPC social casino. It is also possible to sign in via your Google+ profile if you don't have a Facebook account. All of the free to play pokies that are available through JPC are designed to look fantastic on the smaller smartphone, tablet or kindle-type devices.
Security
Security and Fair Play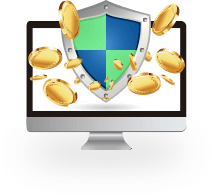 JPC is a legitimate online social casino and, unlike many of the free to play pokies that you'll find on Facebook for instance, JPC is part of Jackpot City casino. This means that you can expect the same sort of safety and security that you would get if you were playing at Jackpot City casino for real money. Being able to sign in with your Facebook or Google+ profile also adds an additional layer of protection and security since there is no need to create a new profile or upload any of your personal information. JPC will also not post anything to your Facebook or Google+ profile unless you consent for them to do so. You can also further control safety and privacy through your Facebook settings.
TAKE ADVANTAGE OF FREE COINS SIGN UP BONUS AT JPC!
Promotions
JPC Promotions and Support
Welcome Bonus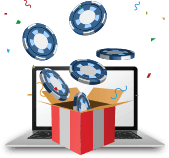 Since there is not real money involved in playing at JPC, one would wonder if there is any need for welcome bonus offers. However, even though playing all of the JPC pokies are free, you still need 'coins' to play them. To this end, JPC give new Aussie players that sign up to play free pokies, thousands of free coins to get started with. In fact, the initial number of coins that you can earn just for signing up with them runs into the millions. You can also earn even more coins as you play the first free pokies and unlock bonus rounds and win free coin jackpots. You can also buy even more credits directly through JPC if you are a more serious pokies player. The coin bundles come in a range of different sizes to suit different needs and are very affordable. The current menu of free coin bundles looks something like this:
Six Million coins for $5
14 Million coins for $10
40 Million coins for $20
120 Million coins for $50
400 Million coins for $100
Two Billion coins for $250
Loyalty Rewards and Other Promotions
In addition to all the free coins and bonuses that you can win for free at JPC, you can also earn additional prizes and rewards through the JPC Rewards Lounge. This works in more or less the same way as other loyalty rewards programs with all new players starting automatically on their Silver Status level. Frequent play as well as the actual cash purchase of additional coins will speed up your progress through the different reward levels which include Gold, Emerald, Sapphire, Ruby and Diamond levels. Rewards included enhanced coin packs and other bonuses, as well as exclusive pokies that are only available at higher levels.
Customer Support
Players can receive support via the Facebook Chat app as well as by emailing JPC directly.
Deposits
Accepted Deposit Options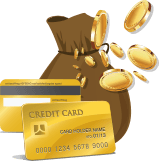 To keep things simple as well as secure, JPC only offer the option to purchase additional coin packs via MasterCard and Visa.
TAKE ADVANTAGE OF FREE COINS SIGN UP BONUS AT JPC!
Reviewed by: OnlineRoulette.com.au