Top Online Roulette Games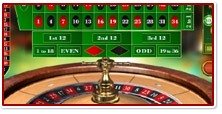 For such a widely understood game, it is incredible how few Australian gamblers know about the different variants of roulette. Poker, for example, is known as a category of card games; nobody thinks that it's just one game.
Roulette online might not have quite as many variations as poker, but the ones that it does have are equally distinctive and, just as with poker, if you find yourself playing a variant that you don't understand, you may very well just be giving your hard-earned money away. So before you pick just any Internet roulette game, read our guide that answers to questions such as:
What are the different online roulette games out there?
What makes them different from one another?
Which ones are best for Australian gamblers?
What are the best Internet casinos to play them in?
Online Roulette Variants
First of all, let's see what the most common variants of online roulette games actually are for Aussie players. All of them apply to both the free versions and their real money counterparts.
The first two roulette games are the most recognisable: American and European. These two games are nearly exactly the same: the layouts, the rules, the pacing, and the payouts are all identical. The only difference is that European wheels have 37 pockets while American wheels have 38. This is due to the fact that American wheels have two zero-pockets while European roulette wheels only have one. This appears to be a small difference but for Internet gamblers it's a big deal statistically. Playing European roulette puts you up against a 2.70% house edge, as opposed to American roulette's 5.26% edge.
If you have the choice between these two online roulette games, always go with the European wheel. In live casino settings, you can usually find both of these variants, whether you are playing in Europe, America, or anywhere else for that matter.
Play Free Roulette Online Now!
Now that those are out of the way, it's time to look at some of the more obscure roulette games for Internet players. You don't see these as often in live casinos, but it's easy for gambling websites to offer them.
The first is multi-ball roulette. This Internet gambling game lets you play with one, two, or three balls at a time. This, of course, means that there will be one, two, or three winning numbers. To compensate for it being so much easier to win, your payout will be divided by two or three, depending upon how many roulette balls are in play.
Another interesting online variant is mini-roulette. This is essentially the same as a normal Internet roulette game, but there are far fewer pockets on the wheel (normally twelve). Payouts, of course, have also been adjusted.
These kinds of specialised online roulette games generally don't offer better odds, but they do make for interesting varieties for Australian online gamblers.
Where to Play These Games
So whether you're searching for specialised game variations for roulette online to gain a statistical advantage (as is the case with European roulette), or because you're dying for some variety with your Internet gambling (as with multi-ball roulette) we have identified the best online casinos for you. These are the websites that are known for their great variety of online roulette games and, just as importantly, we have been looking for the best places for Australian players specifically! They all have fantastic payment processing and customer support options for any player connecting from down under.
Get your game started at the
#1 Rated
Roulette Casino
Frequently Asked Questions
Online roulette, just like the classic land-based game you'll find on casino floors, comes in a range game formats. You can play for real money AU$, or just for fun, completely free. Some of these offers variations in the roulette wheel itself, while others experiment with the number of players, number of wheels and the stake and jackpot levels. You'll also find progressive jackpot roulette, where it's possible to win a huge amount accumulated over a big number of spins at a site.
Here is a selection of the most popular roulette formats you'll find at the best casinos online:
American roulette
European roulette
French roulette
Premier roulette (sometimes called Diamond roulette)
Roulette royale
Multi-wheel roulette
Mini roulette
Progressive jackpot roulette
What game is more popular?
The online roulette game you choose comes down to personal taste, but the classic American and European formats are generally considered the most popular online. The big difference between the two is the number of pockets on the wheel – with the American wheel having 38 and the European wheel 37. The American wheel has an extra zero, which give the house a marginally better edge and has many players preferring the European wheel.
European roulette has just one zero on the wheel and thus gives players slightly better odds for success. For that reason the game has grown in popularity online and draws players in big numbers. It's worth noting that the French roulette wheel also has just the one zero, so carries the same appeal as European roulette.
Which has the best jackpots?
If you're looking a life-changing win, look no further than progressive jackpot roulette. Progressive jackpots have been known to deliver wins in the millions, and the biggest on record saw the lucky victor claim more than $22 million. That's a quite sensational online roulette win, built on the progressive format that sees jackpots built up across a big number of spins at a site.
In terms of the other roulette formats, jackpots are more or less consistent. What you win depends on how much you bet, and how big the odds are on the bet you place. The biggest one-spin wins come when you place a decent amount down on an outcome with high odds. You can also have a number of simultaneously bets come in on the same spin, thus multiplying your winnings.
Which one has odds that are more favourable?
As mentioned earlier, the European and French wheels have a lower house edge than the American wheel. It's a small differential, but you're getting slightly better odds of winning by playing these formats than the classic American roulette format.
Do any casinos offer all game options?
The sites we've listed above all offer a great selection of roulette formats to choose from. We asked our expert reviewers to highlight sites based on their breadth of game choice, payout percentage and bonuses on offer. These sites also rate very highly for online security and banking systems.
You're always going to find variations, sometimes subtle, when it comes to online casinos and the game options they have. No two sites have an identical selection of roulette games, and thus no one site can be said to cover all bases in the area. That being said, the sites we've listed here have the best mix of game formats we can find online.
If you stick to these sites you're going to get a really good sense of the available roulette formats. By trying them out, one by one, you can get a feel for which format you enjoy best and which you'd like to focus on. It might be that like to focus on more than one, of course, which is completely fine too.