Las Vegas Gambling Guide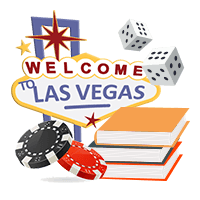 Fittingly nicknamed The Gambling Capital of the World, Las Vegas is home to a whopping 76 casinos. If that number makes your head spin, you can also gamble at supermarkets, convenience stores, and gas stations. While there's clearly no shortage of places or ways to bet, that's only part of the story.
Vegas is equally famous for its anything-goes party atmosphere. While you shouldn't expect to recreate The Hangover movies, pleasure is always in the cards in Sin City. The popular ad campaign that taught us that whatever happens here, stays here still rings true. The streets aren't just alive but the dance floors are always pumping too. Yet even if you prefer to play it safe, there's plenty to do. The city is home to some of the world's best entertainment. From concerts and comedians to circus acts and magicians, it's all here in the heart of Nevada.
Las Vegas Advantages
There's no doubt that Las Vegas is a gambler's paradise. You'll not only find more opportunities to place bets than anywhere else in the world, but you can find just about every game imaginable at stakes that suit your style. Whether you prefer playing penny slots or $100K blackjack hands, that anything goes attitude extends to the casino floor in this town.
As a paragon of American capitalism, Las Vegas is great for gamblers. Since you can easily go next door, across the street, or to another part of town if you don't like the action, casinos are essentially forced to compete for your business. That means you can count on better service, more appealing odds, and bigger jackpots than you'll find in other cities. If you love poker, there's no better place to play in the world. It really does put Australian casinos to shame.
Las Vegas is surprisingly affordable. Not only can you count on free drinks and absurdly cheap yet impressive buffets, but the luxury hotels are deeply discounted. The city is also known for its comps. Don't be surprised if you get rewarded for your time at the tables with complimentary meals, accommodations, and show tickets.
One of the great things about Las Vegas, at least for Australians, is that everyone speaks your language. While English might seem boring compared to the exotic languages of Asia, it's easier to have a great time when you can communicate with staff, locals, and other tourists alike.
Las Vegas Disadvantages
Australian gamblers should be aware that the US government taxes casino winnings. If you hit a jackpot playing poker machines, bingo, or keno, the casino will withhold a sizable chunk. While you can fill out paperwork to apply for a refund as an Australian, it could take weeks or months to get your money.
While Las Vegas has plenty of strength, the distance is a deterrent. Are you prepared for the 12,500 kilometre flight from Sydney? Without even considering the cost, that's twice as long as Singapore and 5,000 km farther than Macau. Keep in mind that the gambling age in Nevada is 21, which might come as a shock to Australian young adults.
Top Las Vegas Casinos And Resorts
Aria.com
With two colossal towers connected by a 14,000 metre casino at is base, the Aria is impressive. The property boasts over 4000 luxury rooms, 16 restaurants, 10 bars, a majestic pool, spa, salon, and theatre. You could easily spend a weekend at the property without making your way onto the strip.
Bellagio
The casino that ushered in the city's mega-resort revolution celebrated its 18th birthday in 2023. Best known for the signature fountain, the elegant Italian-themed casino features 3,950 rooms and is home to Cirque du Soleil's water-themed O show as well as the Bellagio Gallery of Fine Art.
Caesars Palace
After fifty years on the strip, you might expect Caesars Palace to lack the panache of newer resorts. Luckily the property is nothing to sneeze at thanks to regular renovations and the addition of new towers. It's a great place to gamble in an ambience inspired by Ancient Rome or catch a show by heavyweights like Elton John, Jerry Seinfeld, or Mariah Carey.
The Cosmopolitan Of Las Vegas
The Cosmopolitan is most famous for its lavish suites with spectacular private terraces, but the hotel is also home to the Marquee Nightclub & Dayclub, which is one of the most successful clubs in the entire USA. Gamblers will appreciate the fabulous views of the strip from the gaming floor, which tops 10,000 square metres.
Mandalay Bay
The 43-story tropical-themed mega-resort features 3,309 hotel rooms, 12,500 square metres of gaming, a sprawling convention centre, and 12,000 seat theatre. With three pools, wave pool, lazy river, waterfall, and Shark Reef Aquarium, it's sure to rival any Island resort you'll ever encounter.
MGM Grand
Despite being 41 years old, the legendary casino truly is grand. The classic art deco Hollywood-themed casino has more than 5,000 hotel rooms and 15,930 square metres of gaming. Don't be deterred by its age, the hotel was completely renovated earlier this decade.
The Mirage
When the Mirage opened in 1989, it was the most expensive casino hotel ever built. While it has lost some of its lustre, especially when compared to modern mega resorts, the Polynesian themed casino continues to offer great gaming and plays host to The Beatles Love.
Red Rock Resort
People who live in Las Vegas will tell you that locals never gamble on the Vegas Strip. Unfortunately, most spots frequented by residents tend to be dumpy, but Red Rock Resort is an exception. Despite being 20 kilometres from the rest of the action, the Red Rock is just as splendid. The property is home to great gaming, a movie theatre, pool, bowling alley, 11 restaurants, a lightshow, 815 luxury suites, and more.
Wynn Las Vegas
Sprawling 215 picturesque acres, Wynn Las Vegas is easily the country's most impressive casino. Everything from the gaming floor and hallways to swimming pool and indoor gardens is a work of art. You won't want to miss the secluded Lake of Dream, which is the perfect escape from the strip.
Venetian-Palazzo
It's hard to miss the trademark gondoliers navigating the waterways out front, but there's even more to love inside the Venetian-Palazzo. The Venice-style casino offers fantastic shopping, celebrity chef restaurants, performances from international megastars, and fantastic gaming including the city's largest poker room.
Things To Do And See
Absinthe is more than just a potent libation, it's also the hottest show in Las Vegas. It's worth the price if you can't handle edgy humour.
Zombie Burlesque is worth your time and a trip to the Hard Rock Hotel.
If you ever dreamed of joining the circus, Trapeze Las Vegas will turn you into an acrobat.
Even if you aren't staying on the strip, be sure to check out the fountains of Bellagio and grab a selfie.
Las Vegas Food Favourites
There's more than just endless buffets to satisfy your taste buds in Vegas. From the thriving gourmet food truck scene to the signature restaurants of celebrity chefs, there's something for everyone.
El Dorado Cantina is a fabulous spot for upscale Mexican cuisine made from sustainable ingredients.
John Mull's Meats & Road Kill Grill serves up melt-in-your-mouth BBQ.
Head to Del Frisco's Double Eagle Steak House for the best steaks in Las Vegas.
Make The Trek To Las Vegas
There really is no place like Las Vegas. While gambling is fully ingrained into the city culture, that's only a fraction of the draw. Whether you are an avid gambler, want to experience a perpetual party that doesn't break for dawn, feel like watching the best entertainment on Earth, or are ready to bust your belly, the town doesn't disappoint. It's definitely worth the trip, especially when you consider it's surprisingly affordable.